Property ID : velappaya1
Rs. 2,300,000 Rs.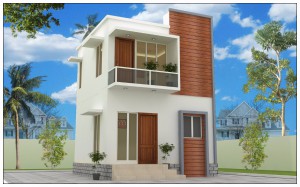 3.25Cent Land and 827 Sqft villas for sale at velappaya. Possession within 6 month period.
SPECIFICATIONS:
FOUNDATION TYPE*: SSM OVER RR MASONRY
CONSTRUCTION MATERIAL : CEMENT BRICKS
CONCRETE GRADE: M20 GRADE
FLOORING : VERTIFIED TILES , GRANITE PIECES FOR KITCHEN SLAB
ELECTRICAL : ISI MARKED BLACK PIPE CONDUITS, WIRES,SWITCHES AND MODULES SINGLE COLOUR RANGE
PLUMBING:PIPES –  ISI MARKED
WATERTANK : 500 LTR.
SANITARIES: ISI MARKED EWC WITH FLUSH TANK ,WASHBASIN, FITTINGS INCLUDING TAPS,AND HEALTH FAUCET
PAINTING :BIRLA WALL PUTTY @ FRONT PORTIONS
AND ONE COAT OF PRIMER,TWO COATS OF BERGER EMULSION ON THE INTERIOR ; WINDOWS AND DOORS ARE ENAMEL PAINT FINISH ;
JOINARIES:MAIN DOOR HARD WOOD FRAME AND SHUTTER.
INNER DOORS:WOODEN FRAME AND SKIN DOOR SHUTTER.OUTSIDE DOOR HARDWOOD FRAME & SHUTTER
BATHROOM DOORS : FIBRE DOORS.
WINDOWS : WOODEN FRAME & SHUTTER WITH DESIGN ON GLASS PANELS.


Neighborhood
1. Thrissur – 8 km
2. Medical College – 2 km
3. Bharatiya Vidya Bhavan – 1.5 km
4. Thrissur – Shornur Road – 1.75 km
5. China Bazar Jn Bus Stop – 500 meter
6. Velappaya Shiva Temple – 1 km
7. ST. Mary's Church – 800 meter
8. Athani JMJ Higher Secondary school – 4 kms
9. Catholic Syrian Bank – 800 meter
10. Velappay Center – 1.5 km

Amenities: 
Approved layout
Tar Road
Surrounding compound wall with gate
Common area
Plot demarcation
Additional Details
23 Villa at Velappaya:

2300000